Being 5mm in size, controlling and removing bed bugs is a tough task indeed but not an impossible one if you take smart measures. In fact, if you know how to get rid of bed bugs in mattress, you can even stop them from reproducing. This way, you not only can control and remove the bed bugs carefully but also make yourself free of bed bug threats and attacks. Therefore, follow our guide step-by-step and you can get a clear idea of how to get rid of bed bugs in mattress. The guide we mentioned is in this blog for you to read.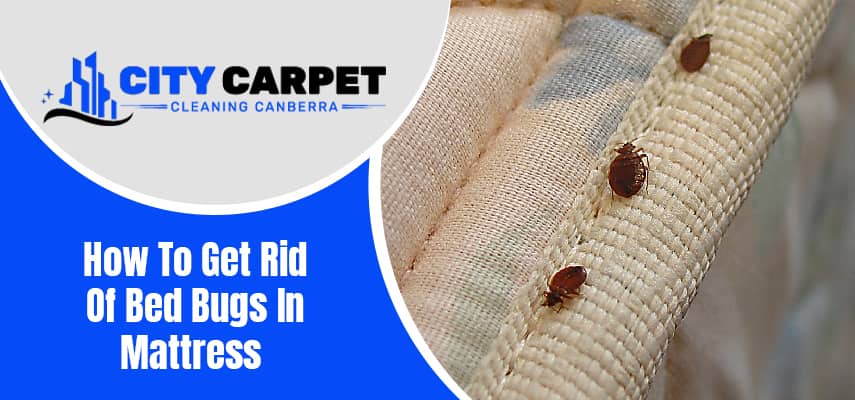 Follow Our Guide To Getting Rid Of Bed Bugs From Mattress
Identify The Property Areas That Are Infested
The first thing you need to follow in order to know how to get rid of bed bugs in mattress is to identify all those areas of your places that are infested; even before bed bugs start reproducing
The quicker you identify the infestation type, the faster you can treat the treat your property
Bed bugs can easily squeeze into tiny holes because of their narrow and small body size. Moreover, they can even get into seams of the mattress or different types of upholsteries including curtain folds
Therefore, to identify the bed bug Infested areas, look in places such as:

The headboard of a bed and its cracks
Near mattress tags
In skirting board
In between the couch and its cushions
At furniture joints
Inside plug-sockets
Under the loose wallpapers
Underneath wall posters.
Signs You Can Look To Identify Bed Bugs-
Spot a bed bug movement
Dark stains on your mattress due to bed bugs excrements
Blood spots on bedsheets
Sickly odours coming from the mattress
Skin welts because of bed bugs.
Seal All The Infested Belongings
Once you identify the bed bug infestation, the next step is to seal them in the same places they infest
The best and fastest way for you to get rid of bed bugs is to vacuum the belongings you find bed bugs on
Then, take plastic bags or plastic sealants to completely seal the belongings and keep all those belongings in a place
Keep all these belongings in plastic bags only until you wash them. When you are going to wash all of these, set the temperature to the highest in a washer. However, if any of the items don't need washing, put them in the dryer for about 30 minutes by setting the temperature to the highest
Things you need to seal and wash/dry at high temperatures are as follows:

Dresser
Mattress
Carpets
TV
Bed, etc.
Get Ready To Do The Bed Bug Treatment
In this step, you need to treat your home. However, prior to the bed bug treatment, you need to make sure everything is cleaned. Like mattresses, TV, carpet, dresser, clothing, curtains and others
After that, you need to eliminate all those hiding places that bed bugs frequently visit. Follow the below to eliminate the hiding places for bed bugs:

Clothes, newspapers and books under the bed
If any objects are not necessary, throw them away
Then, seal off the open areas such as cracks around baseboards, tape the plug-sockets and caulk the furniture cracks
Note- Never move the infested items to a room that is already cleaned in order to prevent them from spreading.
Killing Bed Bugs With Various Methods
Bed are easy to kill once you find their hiding places across your home
Temperatures that easily kill any number of bed bugs are 0° of intense cold or 46.11°C of high heat
If you want to a few more important ways how to get rid of bed bugs in mattress, look and follow the below:

Take boiling hot water and wash all the infested items in it for about 30 minutes. After that, put these items in the dryer by setting them to the highest temperature for around 30 minutes
Wherever (couches, clothes, carpets and other fabric belongings) you find bed bugs, use a high-performance streamer
On a hot day that has 35°C, pack the infested objects in black plastic bags and put them outdoors. However, if you want to use colder temperatures, then it takes nearly 2-5 months to completely kill bed bugs with the sealing method
Remove all the bed bugs to put them in a bag. Now, put this bag in a freezer at -17.78°F and leave it there for 4 days to find all bed bugs are killed.

Once you find there are no more visible bed bugs after this step, zip all the mattresses with bed bug-proof sealants to re-use the mattress. Therefore, even if there are any more bed bugs present on/in the mattress, they get trapped and die.
Inspect To Prevent Future Bed Bug Entry
On completing the first 4 steps in how to get rid of bed bugs in mattress, you need to re-inspect the mattress. This is so you can prevent the future entry of bed bugs into your place
In fact, re-inspecting the mattress for bed bug removal ensures that the treatment you did worked or not
Also, when you are following the re-inspecting step, you need to do it every 7 days by cross-checking the above-mentioned signs
If you find no more bed bugs after following our guide, then it is great. But if it's not the case, then follow other ways (mentioned above) in treating your place.
Conclusion
Are your tricks for "how to get rid of bed bugs in mattress" not working? No worries when you have professional mattress cleaners' assistance to count on. Yes, mattress cleaners do help in getting rid of bed bugs because they have exclusive services like steam cleaning to offer. In fact, the same steam cleaning for bed bug control is available in the form of emergency and same-day services too. Moreover, experts are knowledgeable on how to use state-of-the-art equipment and other mattress-protecting agents. Therefore, contact Mattress Cleaning Canberra experts for professional services that completely kill bed bugs at affordable prices.