Why Do I Need End Of Lease Carpet Cleaning Canberra?
Why Do I Need End Of Lease Carpet Cleaning Canberra? End-of-lease carpet cleaning is a specialist service ideal for cleaning carpets in corporate environments, rented homes, leased properties, and other conditions. The term describes a situation when a tenant leaves a property and leaves behind odorous carpeting that creates various problems between the tenant and property owner.
On the other hand, end-of-lease carpet cleaning is a solution to all of those problems. Dedicated carpet cleaning professionals can assist with this challenging cleanup using specialist equipment. Plus, they can do other types of cleaning to prepare the property for a new owner. This will make the process of leaving a leased property without any claim or blame.
In this blog, you will read about those reasons that explain your question Why Do I Need End Of Lease Carpet Cleaning in Canberra? Learn these to make your process of leaving a rented house without any problem and keeping things easy for both.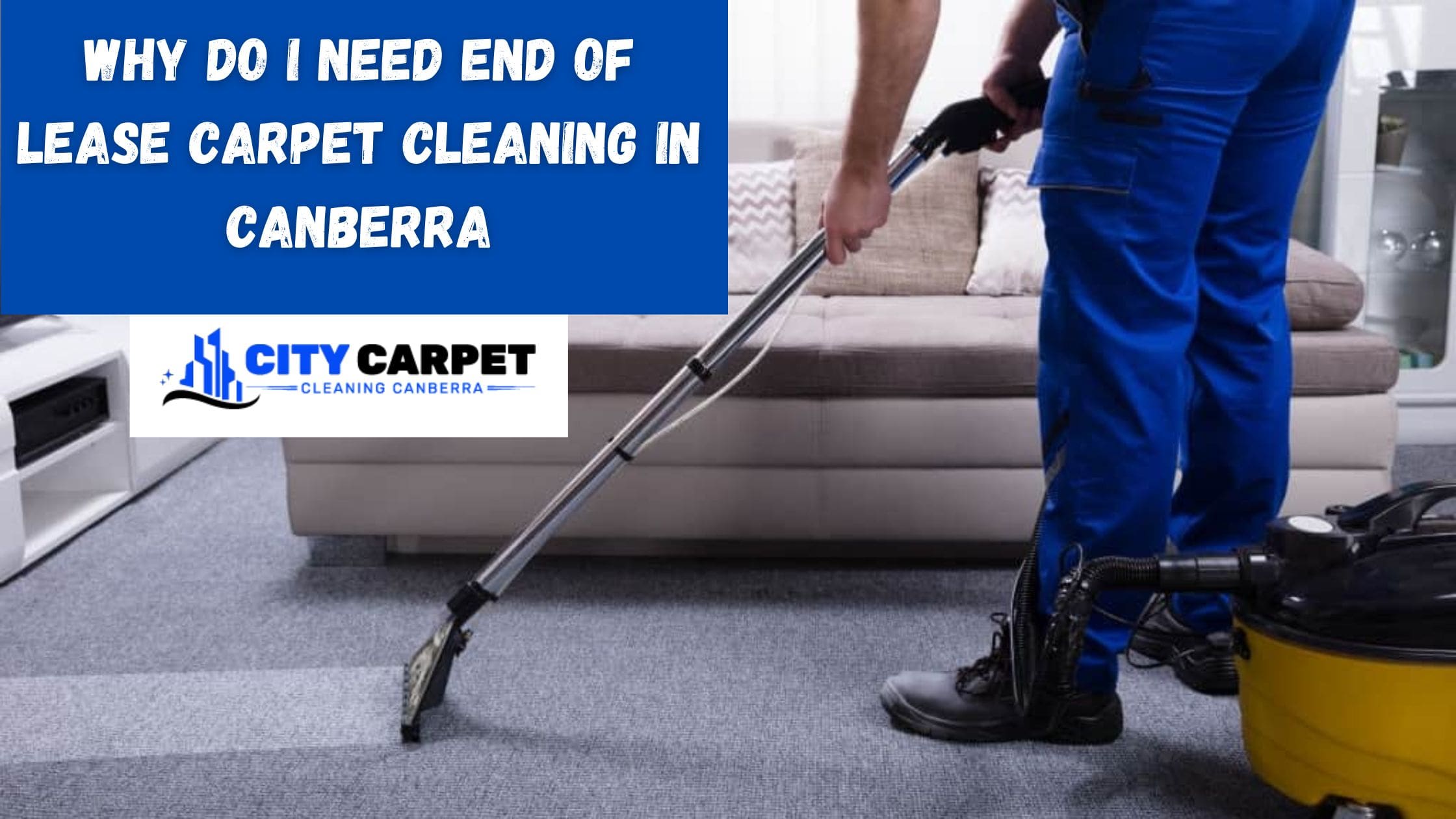 Here Are Reasons That Explain Your Question Why Do I Need End Of Lease Carpet Cleaning in Canberra
Owner Will Not Accept Smelling Carpets: Most people want to get rid of their carpet's unpleasant odor. Lease ends happen frequently in business settings, where offices get fresh occupants every few years. With daily usage, carpets go through various issues that can cause smelly carpets. This calls for cleaning companies and it creates a high demand for end-of-lease dry and steam cleaning services. You can check the facts and reality Is Carpet Steam Cleaning Really Effective? If you can not clean those smelling carpets, you can get them cleaned by end-of-lease carpet cleaners.
Bond Money Return: Still wondering Why Do I Need End Of Lease Carpet Cleaning in Canberra? You may not get the bond money if you do not return the carpet in a better condition however, you can check How to Get Your Rental Bond Back. These professional companies and their services can help you to get the money. They are experts at this work so they can handle all carpets and make your bonded carpets leaving process easy.
To Maintain A Healthy Relationship: You must return those carpets in a neat and clean condition if you want to maintain a healthy relationship with your landlord. This will keep things easy for you in the future if you need to deal with the same property owner. Your reputation as a good tenant is beneficial for you. You can achieve this reputation with the help of end-of-lease carpet cleaning services. Property owners appreciate knowing the tenant is seeking to make the carpet more pleasant.
Save Time And Money: Fees charged by end-of-lease cleaning companies vary based on the size and type of job. Some companies charge by the square foot when performing deep cleans on carpets and fabrics. Others keep their prices low by only charging for labor instead of specialized equipment and supplies. They also do simple prepping work such as removing stains from windows and furniture before cleaning them with carpets. Essentially, you pay extra if your cleaning requirements are more difficult than usual. This saves you both time and money. End-of-lease carpet cleaners can do the cleaning of standards accepted by renters within a given time at lower prices.
These points answer your question Why Do I Need End Of Lease Carpet Cleaning in Canberra? You must be knowing that you can not clean like professionals however you can check some Do's & Don't while cleaning carpets. Out of these all points, the main point is bond money return because if you are getting this that means you have satisfied the property owner. So let us see what you can do to get your bond money.
Here Are Some Tips For Getting Your Bond Back When You Vacate
1. Plan Ahead
It is important to plan the potential duration of carpet cleaning at the end of the lease. Cleaning up when you have to leave is more of a hassle than spraying disinfectant, cleaning, and planning a day for it. You will find that ensuring you have everything you need to clean up your move can take some time. This includes dusting, clearing clutter, removing bugs, etc. This includes proper cleaning equipment and methods.
To ensure you're fully prepared for what lies ahead, do some research before making any arrangements to end your lease. We all know how to clean surfaces, but deep cleaning requires more manual labor and specialized cleaning products to ensure carpets are squeaky clean.
It is also interesting to calculate its potential duration. Hiring a professional is very useful if you have a large space and a tight deadline for your lease to expire. Once you have established this schedule, you can plan your move-in cleaning more effectively.
2. Check each room's carpet separately
Try to clean all parts at a time. Before you begin a thorough carpet cleaning, take your time and carefully assess each room. It can be daunting and time-consuming if you stop and start cleaning each carpet individually. Move forward starting from the back of your house or apartment to ensure you haven't missed anything. Be diligent when inspecting every room in your home to ensure you don't overlook any part of your property. To make sure the carpet is clean, you can also make a list of rugs to clean. This can be a very important point for getting your bond back when you vacate.
4. Before cleaning each carpet, remove all furniture
Take care to move your furniture as far away from the work area as possible before getting your hands dirty. Large pieces of furniture like the fridge, sofa, and bed mattress are often left in place until the day you leave, leaving you little time to clean only the areas that need it.
This will help to clean all the carpets. For other rooms in your home, you can start cleaning specific drawers, cabinets, and storage areas once you start cleaning at the end of your lease. You should do this before you start cleaning because you might miss some carpets and have to start the cleaning process over again, wasting your time and resources.
4. Invest in a professional caliber of cleaning products
Purchasing professional-grade cleaners is a good option for carpet cleanup. When it comes to carpet cleaning, household cleaners are fine, but they don't always work well. For this reason, you need to make sure you set yourself up for success and use the power of professional-grade carpet cleaning products to regain your bond.
If you don't have access to it, you can still use some common household items, like vinegar. With its acidic component, vinegar is a versatile, non-toxic cleaning solution that can be used to remove soap scum from a variety of surfaces, including showers, floors, kitchen sinks, and stovetops. This is one of the best Carpet Cleaning tips for getting your bond back when you vacate.
5. Consult professionals
Not sure where to start, or maybe time is running out? You can always contact an end-of-lease carpet cleaning professional team. It would be best if they were a leading provider of reliable and affordable carpet cleaning for rented homes.
Their fully trained team can provide you with a package to suit every office or home carpet cleaning and should have reasonable prices and top-notch customer service. They can help get your leased carpet cleaned fast. This is the best tip for getting your bond back when you vacate.
Conclusion
In this article, you understood about Why Do I Need End Of Lease Carpet Cleaning in Canberra, carpet cleaning tips for getting your bond back when you vacate, and more. If you are shifting or leaving a leased house with carpets, then you must remember the things explained here. This will save you from any obligation put on by property owners.